Hey guys!!
Now it is possible to configure, through Azure Site Recovery, the replication of VMs that use S2D (Storage spaces direct), software-defined storage. Below is an example represented by two VMs in Azure with failover cluster using S2D: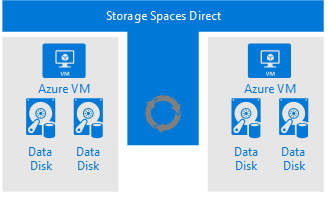 Important considerations before implementing:
When you are setting up a cloud witness for the cluster, keep the witness in the Disaster Recovery region.
If you plan to failover virtual machines to the subnet in the Disaster Recovery region, which is different from the source region, the cluster IP address needs to be changed after failover. To change the cluster IP, you need to use the ASR recovery plan script.
Official reference link:: https://docs.microsoft.com/en-us/azure/site-recovery/azure-to-azure-how-to-enable-replication-s2d-vms
Hugs 😉
Eduardo Kieling